Capoeira Classes in Winter Garden
VI Levels is a MMA & Fitness Center Located in Winter Garden, Florida. We offer several on-going programs with multiple weekly classes for Kids starting at the age of 3. Choose from 3 of our on-going programs, for kids 3-5 years old we have Mighty Mites, our most popular program Youth is for Kids typically between 5-9 and our Teen program which the youngest can be about 10 years old. We don't focus so much on age but more skill.
We also have our Adult Program with Weekly classes and our Women's Self Defense Program. Along with our on-going programs you have a variety of Semi-Private and Private Programs to choose from. These programs are tailored to your needs and taught by one of our World Class or Celeberty Trainers.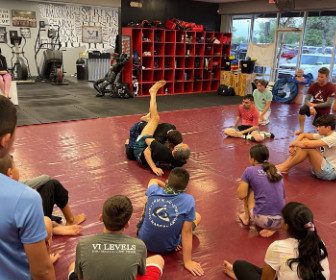 ---
About Capoeira Classes in Winter Garden
Capoeira (pronounced ka-poo-ey-da) is the Afro-Brazilian martial art style that incorporates acrobatics, dance, percussion, and songs in a rhythmic dialogue to bring together the body, mind, and spirit.
Capoeira practitioners are referred to as capoeiristas, and the concept of the style is for two opponents to "play" each other inside a circle formed by other capoeiristas or players, who create the rhythm of the "game" by clapping, singing, and playing traditional instruments such as the berimbau (the musical bow).
In a Capoeira game, the players camouflage their self-defense movements, such as their kicks, with dance-like moves and mesmerizing acrobatics. This is a strategy that aims to fool their opponent and catch them off guard.
Also referred to as dance fighting, there is a common misconception that Capoeira is simply a performative art. However, Capoeira can be both performative and competitive. Performative Capoeira is choreographed as a means to wow a crowd while competitive Capoeira is very much a full-contact martial arts style. It all depends on the arena.
In essence, Capoeira is the result of over three hundred years of slavery in Brazil. Enslaved Western Africans were taken from their native lands by Portuguese colonists, put on ships, and sent over to Brazil to work the sugar cane plantations and serve other purposes. Since African slaves were taken from various Western African cultures, a melting pot of African cultural customs, dances, rituals and fighting techniques came together to form Capoeira.
As Capoeira developed, the slaves used it in their fight to escape slavery and resist capture. However, they had to conceal its combative elements through music, song, and dance, especially after slavery was abolished in Brazil in 1888 when the martial art became illegal. Capoeiristas were even socially ostracized for over 40 years as it was thought of as a practice for selvagens or, savages.
However, Mestre Bimba, the legendary and renowned Capoeira Master, brought the art back to life and proved its legitimacy by opening the first official Capoeira school in Bahia, Brazil in 1932.
Capoeira is an expression of resistance, strength, and resilience encompassed in spiritual and emotional empowerment. It is a combination of the various cultures of enslaved Africans, Brazilian indigenous peoples, and even Portuguese immigrants, reflecting the cultural and social integration of a diverse people that is Brazil.
Today, Capoeira is a forum for social and cultural exchange and empowerment. While it's still a full-contact martial art, it is primarily practiced for enjoyment, fitness, and community. Above all, it revolves around respect. However, when it comes to playing Capoeira, the primary rule of the "roda" (pronounced, ho-da, meaning circle, as in circle of life) is that you must play by the music. In other words, you must follow the tempo and usually the Mestre (master).
As the saying goes, "everything is allowed as long as it fits the music." This would include strikes, kicks, knees, and takedowns, although extreme aggression is very much frowned upon. Additionally, if the master doesn't like how a capoeirista plays, he will ask them to leave the roda.