Kickboxing Classes in Winter Garden
VI Levels is a MMA & Fitness Center Located in Winter Garden, Florida. We offer several on-going programs with multiple weekly classes for Kids starting at the age of 3. Choose from 3 of our on-going programs, for kids 3-5 years old we have Mighty Mites, our most popular program Youth is for Kids typically between 5-9 and our Teen program which the youngest can be about 10 years old. We don't focus so much on age but more skill.
We also have our Adult Program with Weekly classes and our Women's Self Defense Program. Along with our on-going programs you have a variety of Semi-Private and Private Programs to choose from. These programs are tailored to your needs and taught by one of our World Class or Celeberty Trainers.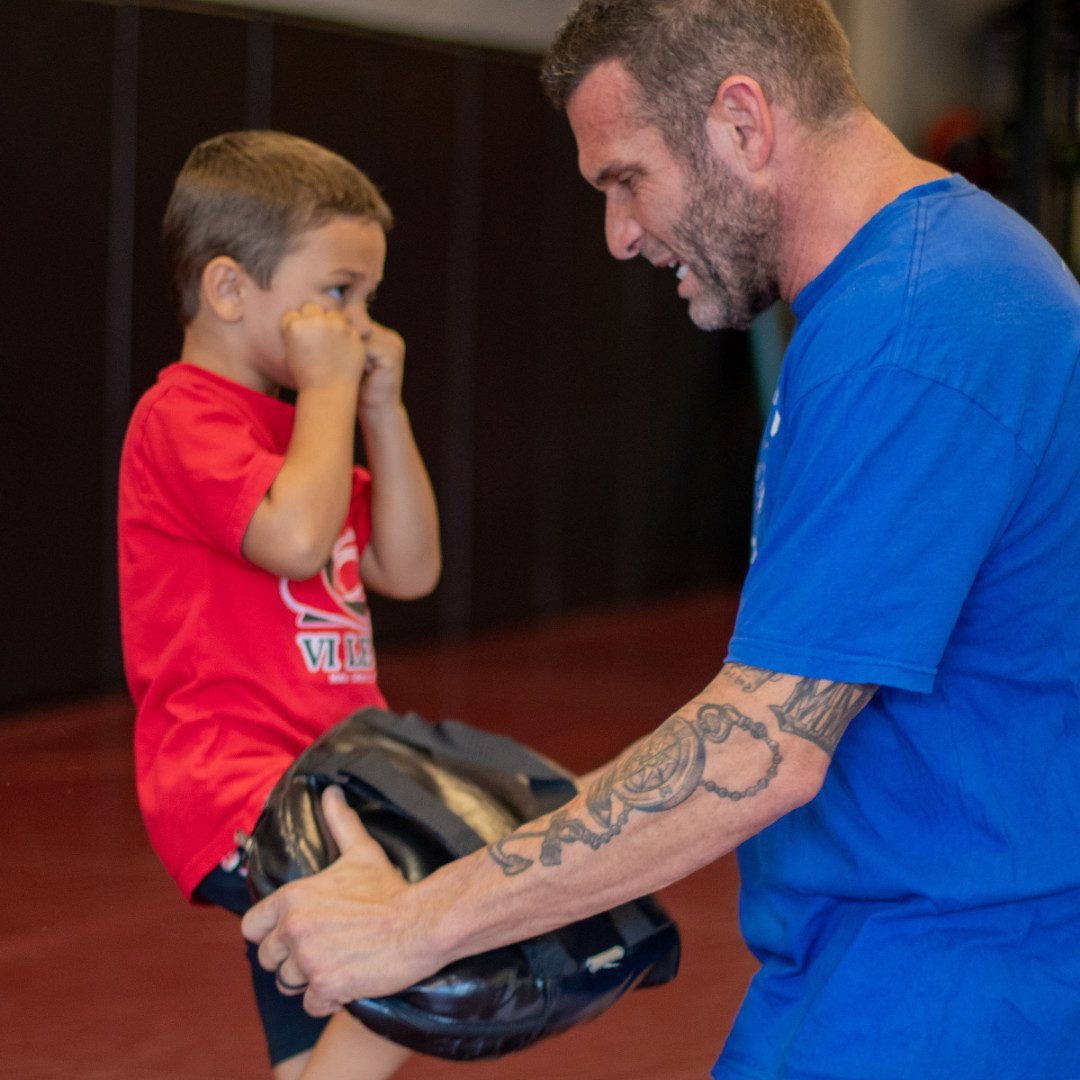 ---
About Kickboxing Classes in Winter Garden
Kickboxing is a Japanese hybrid martial art involving the elements of punching and kicking. Its origins are said to be rooted in the adapted fighting techniques from Karate, Muay Thai, and later the addition of western boxing.
Unlike most other martial arts styles, kickboxing focuses on using one's energy, agility, and reflexes to outmaneuver their opponent. The goal is to dominate your opponent over the course of either three to five rounds (for amateurs) or three to ten rounds (for professionals). In kickboxing, striking and kicking are allowed everywhere except the groin area, and elbows and knees are strictly prohibited. However, different governing bodies apply different rules, which sometimes include the use of knees as a form of striking and even clinching.
Kickboxing officially came around in the 1960s in Japan, and the martial art gained a cult following in America within just ten years. By 1974, the Professional Karate Association in the United States held the first World Kickboxing Championship.
In terms of its evolution, kickboxing is most often said to have started as an emerging version of Muay Boran, Thailand's deadly martial art form. During the 13th and 14th centuries, the Siamese soldiers of Thailand practiced this ancient martial art specifically for warfare. Muay Boran continued to develop as a specific combat system up until the 19th century when it became a popular means of recreation as well as learning self-defense and achieving physical fitness. Eventually, it became a combat sporting event with rules and the use of safety accessories, such as boxing gloves. These rules are what eventually gave way to Muay Thai — a slightly watered-down version of Muay Boran, but still deadly.
Years later, the Japanese boxing expert Osamu Noguchi discovered Muay Thai. After studying Muay Thai closely, Noguchi decided to merge it with the full contact techniques of Karate and elements of boxing, which is what eventually became kickboxing.
As kickboxing became popular in the US during the 1970s, its fighters mostly had to learn through a trial and error process. Many fighters had a background in Karate and fighting full-contact bouts. However, they soon found that kickboxing required a tremendous amount of energy and technique, which rendered their blows ineffective throughout the standard 10 round fights.
Upon improving the combat sport, kickboxers began training and conditioning in other martial arts styles. They practiced full-contact sparring (versus the low-contact sparring they were used to), and as they became fitter, stronger, and more technical, kickboxing evolved into a more dynamic version of itself. From there, it became a part of the international sports circuit, stretching across the globe.
There are several international governing bodies for kickboxing, including the World Association of Kickboxing Organization (WAKO), the World Kickboxing Association (WKA), the International Sport Karate Association, the International Kickboxing Federation (IKF), and the World Kickboxing Network (WKN) — among several others. There's also no single kickboxing world championship promotion. However, Glory Kickboxing, — which is one of the largest kickboxing promotions in the world featuring some of the highest-level kickboxers on earth — is arguably the most popular.